Exhibition was held at: Toot Artspace
Shop 5, 17-19 Irwell Street, St Kilda, Victoria, Australia
This series of paintings and video explores the self authorship and narcissistic nature of online identity. Digital existence is slowed down, solidified and repeated. Paired with hashtags that investigate the notion of performance and curation with a playful slippage of language that exposes the nature of online interactions.


#InstaMe // video // 2018
Avatar // oil on canvas // 77cm // 2018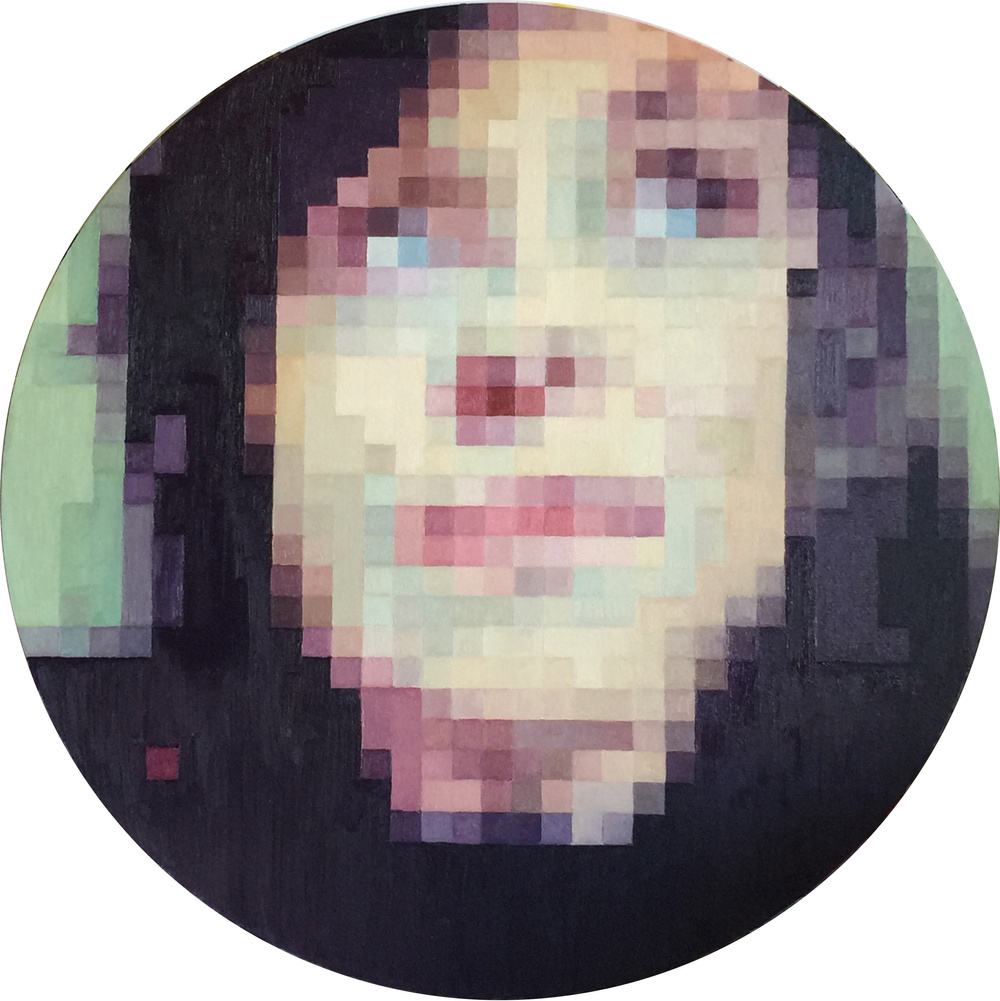 #fuckme // oil and aerosol on wood panel // 44cm x 44cm // 2018 #fuckyou // oil and aerosol on wood panel // 44cm x 44cm // 2018
#creative // oil and aerosol on linen // 20cm x 20cm // 2018 ●
#creator // oil and aerosol on wood panel // 20cm x 20cm // 2018
#OMG // oil and aerosol on canvas // 20cm x 20cm // 2018
#self // oil and aerosol on canvas // 20cm x 20cm // 2018 #selfie // oil and aerosol on canvas // 20cm x 20cm // 2018 #selfish // oil and aerosol on wood panel // 20cm x 20cm // 2018 #selfobsessed // oil and aerosol on wood panel // 20cm x 20cm // 2018

#artist // oil and aerosol on canvas // 20cm x 20cm // 2018
#artistey // oil and aerosol on mdf panel // 20cm x 20cm // 2018
#artful // oil and aerosol on wood panel // 20cm x 20cm // 2018

#artiface // oil and aerosol on mdf panel // 20cm x 20cm // 2018
#phoney // oil and aerosol on wood & ceramic panel // 20cm x 20cm // 2018
#faker // oil and aerosol on canvas // 20cm x 20cm // 2018

#sex // oil and aerosol on wood panel // 20cm x 20cm // 2018 #woman // oil and aerosol on ceramic tile // 20cm x 20cm // 2018 ●

#cunt // oil and aerosol on canvas // 20cm x 20cm // 2018 ●

#sexy // oil and aerosol on canvas // 20cm x 20cm // 2018 #sexualised // oil and aerosole on canvas // 20cm x 20cm // 2018

#fuck // oil and aerosol on canvas // 20cm x 20cm // 2018 #fucker // oil and aerosol on canvas // 20cm x 20cm // 2018
#fucked // oil and aerosol on wood panel // 20cm x 20cm // 2018
#fuckface // oil and aerosole on ceramic tile // 20cm x 20cm // 2018 #fuckyou // coloured pencil and aerosole on wood panel // 20cm x 20cm // 2018
#fuckme // oil and aerosol on canvas // 20cm x 20cm // 2018
#fuckit // oil and aerosol on canvas // 20cm x 20cm // 2018 #fuckwit // oil and aerosol on canvas // 20cm x 20cm // 2018
#fuckoff // oil and aerosol on wood panel // 20cm x 20cm // 2018
---