---
New works / works in progress
As yet uncategorised new works - experimentations and works that are still in progress.
A circle theme seems to be emerging at the moment...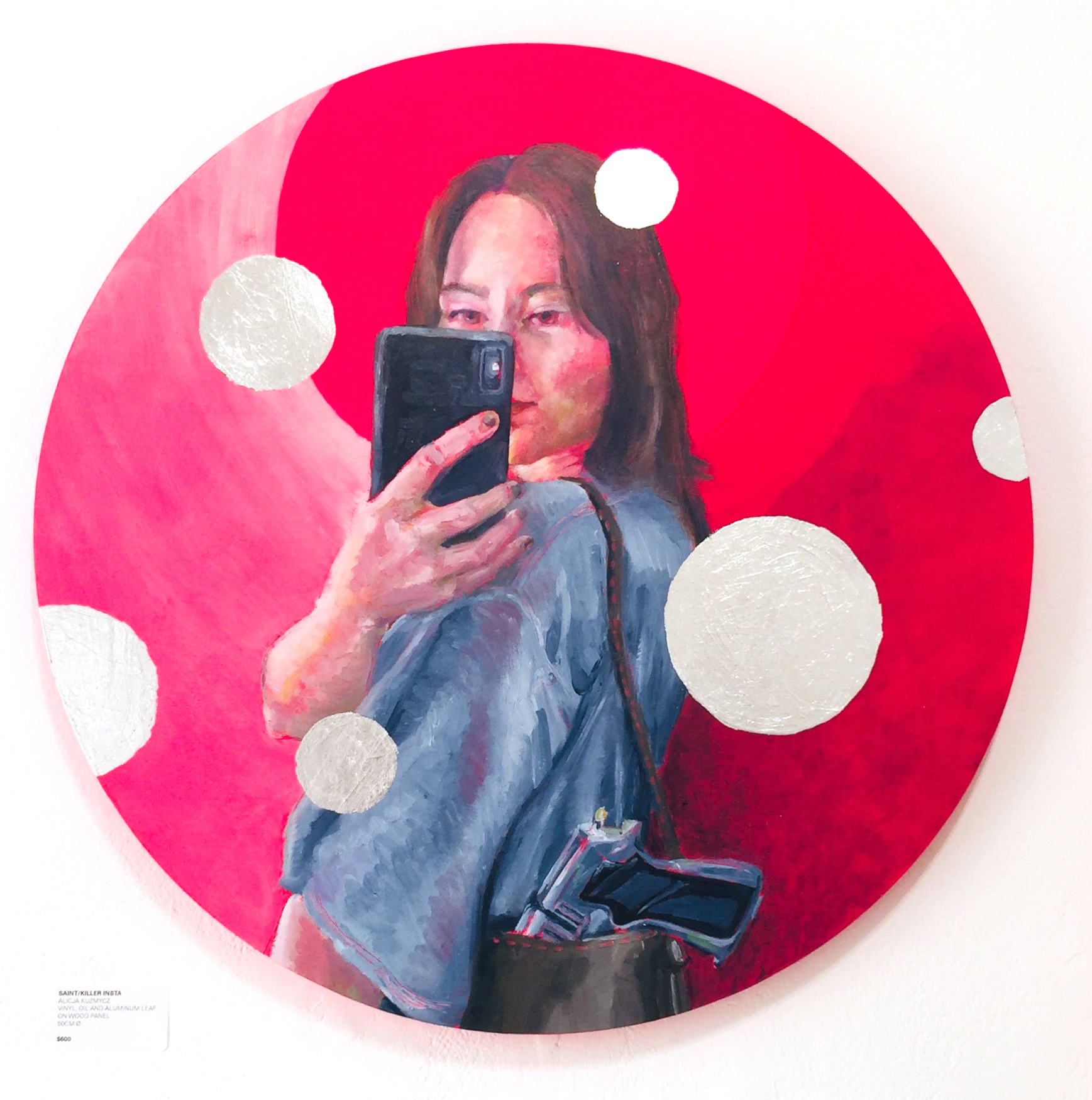 ---
#InstaMe
October 2018
Toot Artspace
Shop 5, 17-19 Irwell Street, St Kilda, Victoria, Australia
This series of paintings and a video explores the self authorship and narcissistic nature of online identity. Digital existence is slowed down, solidified and repeated. Paired with hashtags that investigate the notion of performance and curation with a playful slippage of language that exposes the nature of online interactions.

---
Autobiography
July 2018
Toot Artspace
Shop 5, 17-19 Irwell Street
St Kilda, Victoria, Australia
Here Kuzmycz explores the notion of performance, curation and self-authorship of online identity. Alongside a playful nod to the surrealist René Magritte, this series of self-concious and narcissistic Instagram style pictures reflect a huge shift in our cultural values and social interactions. They slow down and solidify the ever increasing ephemeral digital experience.
---
Series,
Papercut Paintings
2009 - 2015
The femme fatale character creates the opportunity to explore ideas around strong women and culture using dark humour, while tapping into a long historical storytelling legacy. These paintings are also layered with a subverted and moderninsed traditional Polish paper cut (Wycinanki), with collaged cotton crochet doilies.
---
Exhibition,
Pleat of Mind
September 2013
Exhibition was held at: Stephen McLaughlan Gallery
Level 8 Room 16 The Nicholas Building, 37 Swanston St Melbourne
with Mary Gray
"The pleat is a doubling up, a layering of material - somewhat like our identities which are a construct of many characteristics, experiences and expressions folded over one another.

The inner folds, pleat of mind, hide the darker or flip side of femininity - few women would openly identify with them - she's prickly, the bad girl, the bitch, the femme fatale." A.Kuzmycz